The Handsome Store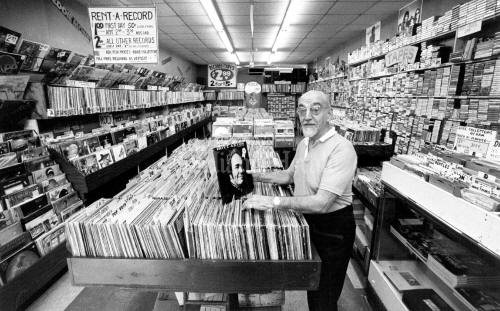 * * * * *
Welcome to the Handsome Store. We offer music from both the past and the present. The work of a number of Handsome artists will be available, and if we don't have it or you don't want it in the form of a physical product, i.e., a hard CD, we'll let you know if you can download it.
Our preferred method of payment is PayPal. It's a very safe way to pay online. We hope you'll consider it. Click here to use PayPal for items on this page. https://paypal.me/handsomeproductions?country.x=US&locale.x=en_US Follow the link and list the items you would like to purchase, along with your delivery address, and enter your total. WE WILL NOT RIP YOU OFF.
We are also looking into Venmo and other alternatives, but if you're not going for this, just shoot an email to paul @ handsomeproductions. com (without the spaces - that's just to avoid spam), and we'll come to an arrangement. We're flexible and we'll never rip you off.
Paul Nickels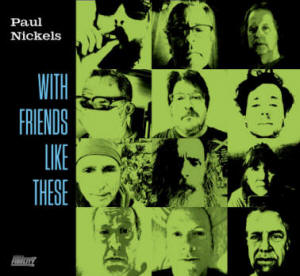 "With Friends Like These" is the debut solo record from Paul Nickels of the Backdoor Men, Inner Ring Conspiracy, Clifton Beat, and Old Brown Shoe Revue. Called an "instant power pop gem" by Chris Noga of the Listen Project, it features 20 originals by Nickels and a number of his current and former bandmates, as well as individuals he's recorded in his studio.
CD is $12, including shipping. The record is also available on all streaming and downloading services. You can also purchase the record directly through the Banana Records website here.
Mark Bluhm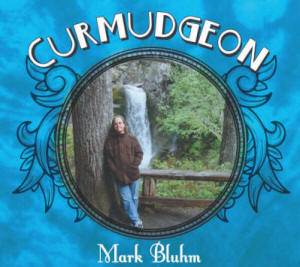 Long-time Cleveland bass player Mark Bluhm realized his goal of writing and recording his own solo record in 2020. It's a terrific melange of folk/rock and pop. The record includes 12 Bluhm originals along with two covers - "Not Fade Away" by Buddy Holly and "Go to Pieces" by Del Shannon.
CD is $12, including shipping. "Curmudgeon is also available on all streaming and downloading services.
Terry Hartman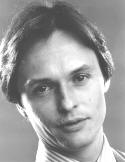 Terry Hartman was a great songwriter from Cleveland who passed away in August of 2021. He was a founder of the legendary Backdoor Men, a psychedelic pop group that he co-founded with fellow writer and childhood friend Dan Cook, but he was much more - he was a scholar of American pop music, from the 1920s to bubblegum songwriters, and he was a music fan before rock and roll even happened to him. His early influences were folk and blues music.
We are in the process of assembling a series of five CDs that will encapsulate his incredible diversity as a writer, including:
Early folk recordings

His legendary album with Cleveland music icon Peter Laughner, "Notes on a Cocktail Napkin, in a fresh burn off of the original album

His initial forays with the Backdoor Men and that band's crowning achievement, "Straight Outta Fairview"

The sole record created by his excellent 1980s power pop experiment "Terry and the Tornadoes"

A disc of the music he was working on at the end of his life
Notes on a Cocktail Napkin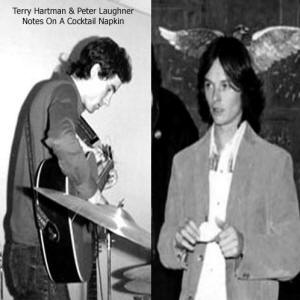 Early in 1969 Terry Hartman and his childhood pal Dan Cook wandered into a record store in suburban Cleveland, where they encountered an intense, good looking teenager named Peter Laughner working the counter. The three quickly discovered a common affection for music - not just the British Invasion or American Psychedelia that was dominating the charts in the summer of Woodstock, but more seminal stuff - urban and country blues, and of course, Bob Dylan. Laughner actually had a band at the time.
Hartman and Laughner grew close and began to play together on an informal basis, churning out some rootsy originals, heavy on acoustic guitar and performed with a lot of passion. Key influences were David Blue and the Holy Modal Rounders. By this time 17 year old Laughner was hanging out with future wife Charlotte Pressler, who shared his artistic vision. Hartman was preparing to enter the army, and Pete was pretty sure he'd be killed in Vietnam. The two sat down and recorded eight songs in the fall of 1969, some purely acoustic and others with drums added by Pressler and bass by Dale Crockett, another childhood friend. Peter, fearing for his friend, had them pressed on vinyl as a legacy. The sessions, recorded in the room where Peter was to die in 1977 at the age of 24, constituted this now legendary album.
This CD is the result of a direct burn of that vinyl album, which is exceedingly rare and quite valuable. The audio has been cleaned up. CDR copies are available for $25 including shipping.
Butterfield 8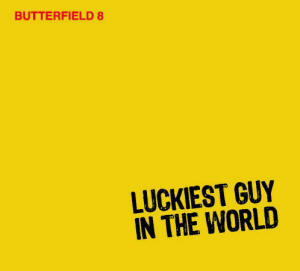 Butterfield 8 was a popular Cleveland band in the mid-1980s, founded by Jim Butterfield, who also launched Banana Records during that time period. Today Butterfield 8 IS Jim Butterfield, assisted by a variety of well known Cleveland musical figures. Butterfield and friends entered Handsome Studio early in 2021 to record 10 fresh originals. Thus was born "Luckiest Guy In The World," perhaps his best record ever.
"LGITW," as it's known at Handsome, is available for pre-order now directly through the Banana Records website here, with expected delivery on December 7th, and is already available at all the streaming and download services.
The Backdoor Men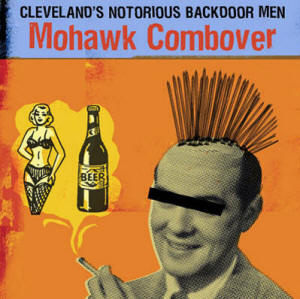 Cleveland's Backdoor Men were part of surge of great punk and psychedelic pop music that emerged in Cleveland in the late 1970s, along with the stars of the day like Pere Ubu, Rocket from the Tombs, the Dead Boys, and numerous others. Never properly recorded in their day, the band reassembled in the early years of the 21st century to record "Mohawk Combover," featuring 17 new originals and lauded by critics across America and Europe. A limited number of copies remain available.
CDs are $25 including shipping. Unfortunately, the record is not available through streaming services.
John Castrigano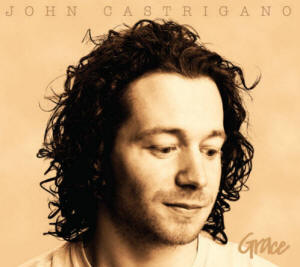 John Castrigano is an extraordinarily talented singer/songwriter from Cleveland's eastern suburbs. He and his two brothers, Paul and Dan, constituted a band called The Breakaway Thrill in his twenties. That band eventually moved on, but John kept writing and he entered Handsome Studio to record "Grace" circa 2014-15. It's a great record - and we have a limited number of copies available for sale. John continues to write and recently came back to Handsome to record some demos.
The CD is available for $12 including shipping.
The Clifton Beat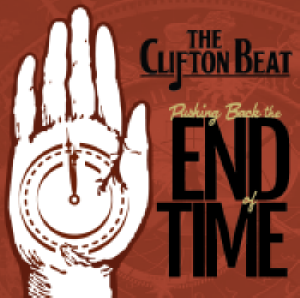 The Clifton Beat evolved out of Inner Ring Conspiracy after that band's lead singer departed. The IRC boys decided to keep at it and they wrote and released their own record in 2015, featuring originals by each member of the band.
The CD is available for $12, including shipping, and "Pushing Back the End of Time" is also available on all streaming services.
Inner Ring Conspiracy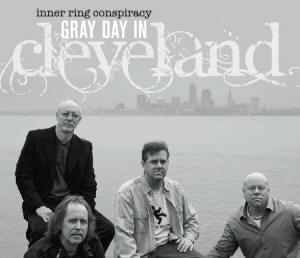 Inner Ring Conspiracy was born in 2010 after a chance musical encounter between Paul Nickels and Bill Rouse. Rouse and Nickels recruited Mark Bluhm, and thus was born an opportunity for Rouse and Bluhm, who had been playing covers in various entities, to develop their writing chops. The results were worth recording! IRC was a strong draw during its run and the album was well received.
There are VERY FEW copies of the CD remaining. We are also willing to burn CDRs for those who wish. The album is $12 including shipping, and is available on all streaming services.

All contents © Handsome Productions, 2021. May be used with permission.